Providing a wide range of Cast Iron Pipes, Centrifugally Cast Iron Earthing Electrode, Ductile Iron Pipe, Pipe Fittings, Manhole Covers and alike that are durable, dimensionally accurate and are coated to last for very long time in domains like textile, irrigation and sewage disposal..

About Us

Pipe House is a proprietorship company running under the vigilance of Mr. Ganesh Rahangdale since our inception in 2003. We have emerged as a leading manufacturer and supplier of Pipes, Castings, Electrode & Man Hole Covers. We are offering a wide range of Soil Drainage Pipes, CI Flanged Pipes, Electrode With Funnel, Electrode With GI Clamp, Ductile Iron Flanged Pipe, S/F Puddle Pipe, Barrel Puddle Pipe, Manhole Cover Round, Engineering Castings and others that are instantly recognized in the market for dimensional uniformity and unique tensile strength.

In order to manufacture these products using raw materials sourced from vendors with whom, we have associated with from our establishment. The quality analysts check every gamut stringently on the parameters of length, accurate thickness, zinc coating, etc. This ensures that our entire product range is conformed to the specified standard and meets the clients' requirements. Owing to our zero defects product quality, reputation for uncompromising quality control, and client-centric focus we can give qualitative product line, which is conformed to the international quality standards.

We are amongst the leading companies that deal in quality Industrial pipes and other supplies manufactured by using latest technologies. Our investments have also assisted us in developing a wide distribution network that has made us the favorite of clients.

Wide Application Areas

All our products adapt numerous applications in the following sectors and industries:
Water Treatment & Supply and Water Line
Sewage Treatment & Disposal
Effluent Treatment
Water Retaining Structures
Pump Houses
Fire Fighting
Drainage Line

Acid Circulation
Gas Application
Cable Transfer Application
Ash Handling Purpose
Harvesting
Domestic
Industrial & Commercial Purpose
"We are providing our products in areas nearby Gujarat."
Most Popular Products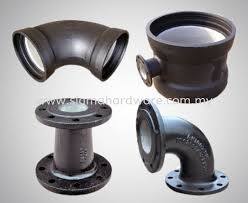 DUCTILE SOCKET SPECIAL FITTINGS AS PER IS:9523, PN-10